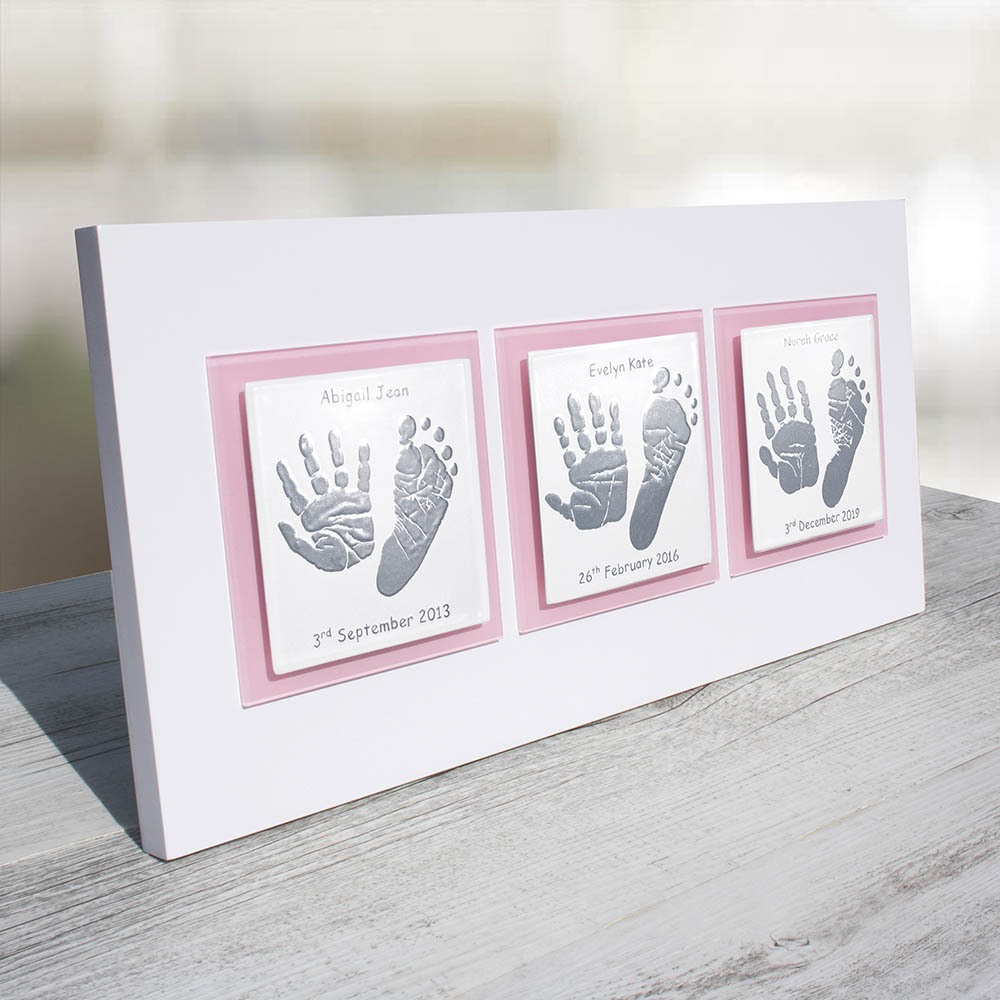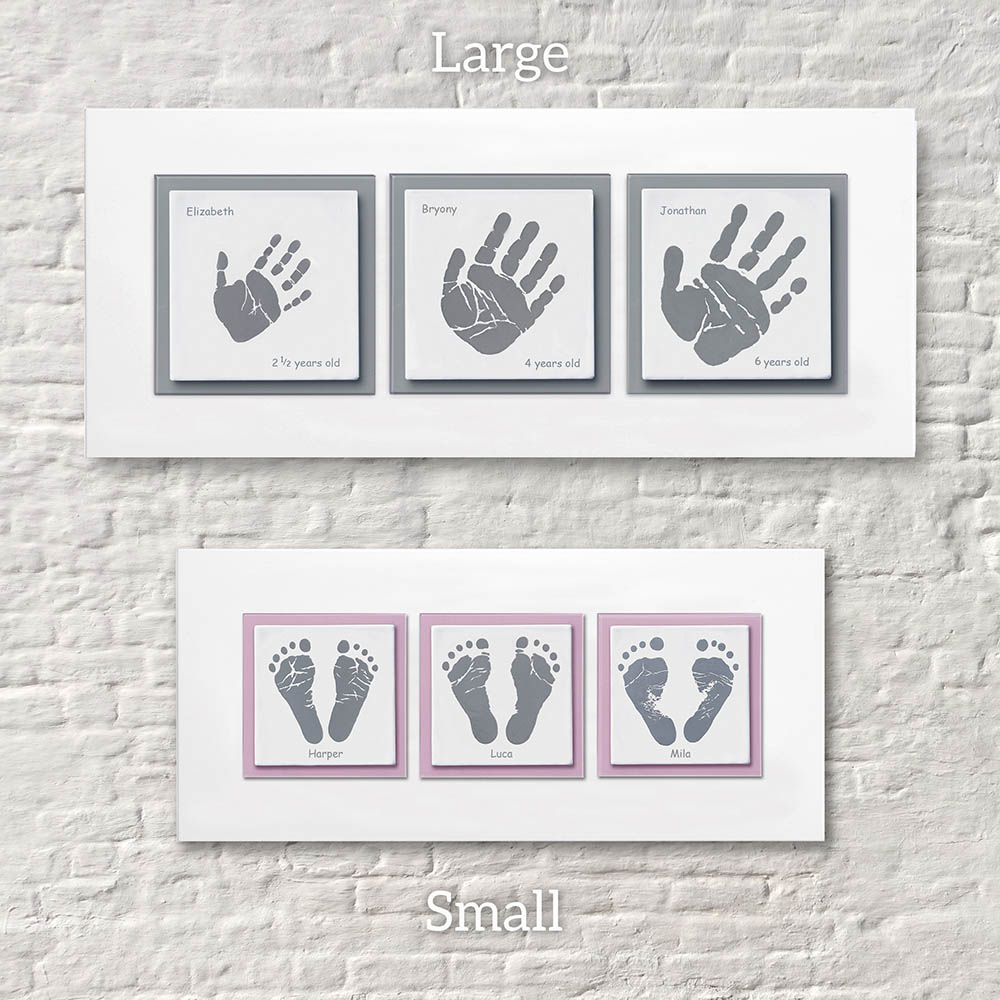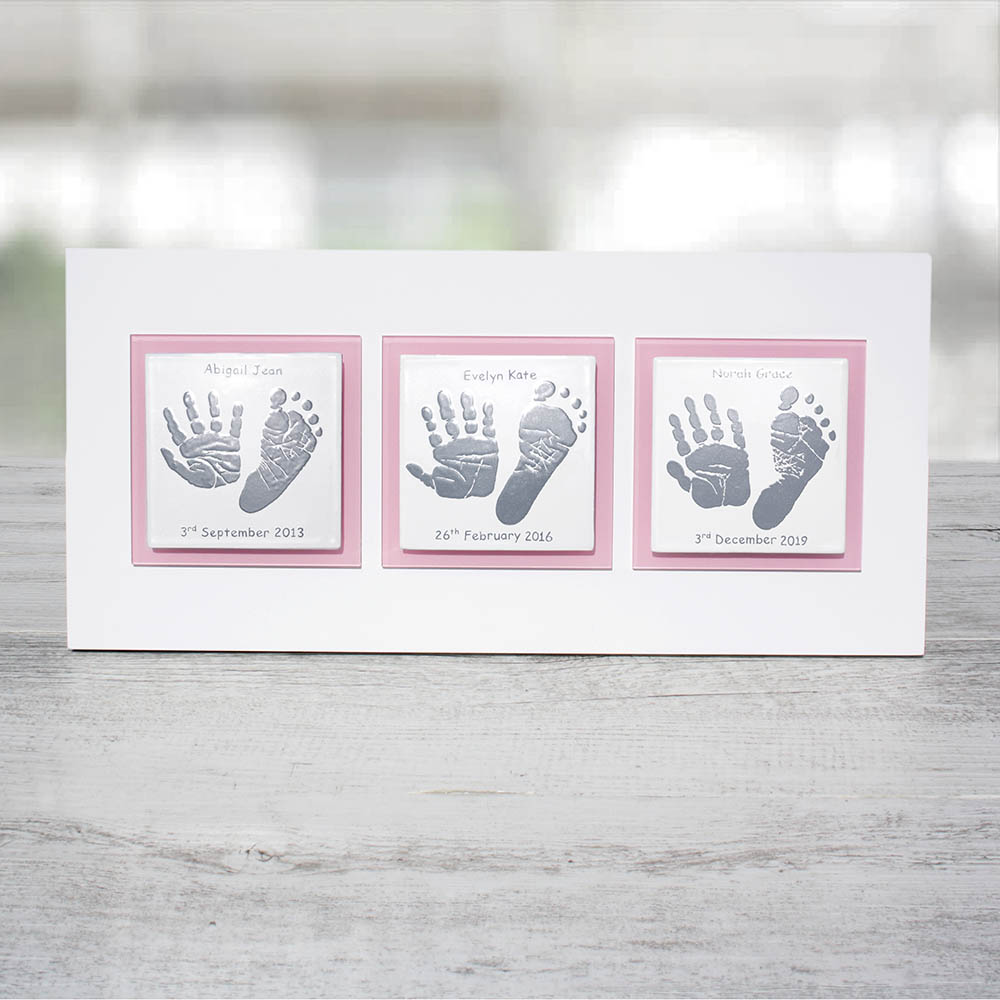 Just like your children, each My Little Keepsake enamel is unique. Cherish your little ones' tiny prints forever in stylish, heirloom quality enamel. Available from birth and for older kids, prints are actual size & you can choose from a wide range of colours. Each keepsake is handcrafted individually. Easy to order on-line, no appointments necessary. Scroll down for more details.
Siblings keepsake frame with your children's handprints beautifully handcrafted in enamel on steel.
Their precious little hands and feet don't stay that tiny for long and it's lovely to compare their sizes when a new sibling comes along.
Our unique, contemporary enamel keepsakes are a stylish work of art that won't fade or discolour over time.
The number of hands and feet you have enamelled on 1 tile will depend on your little ones' size and your choice of frame size (see additional information).
If you're unsure - please contact us.
How to order:
Place your order online and I will send you a FREE inkless print kit. The kit is really easy to use and completely clean and you can take lots of prints.
1 sibling print kit contains 6 pieces of A5 paper so there should be plenty for 3 children - 2 sheets each.
(See our video on how the Inkless Print Kit works).
Then post the prints back to us and we will edit and perfect them for you. (All original prints are returned with your completed order).
You will receive an edited proof by email so that you can check that the spelling and layout are correct.
Your children's prints will be handcrafted in enamel and framed in your choice of colours.
You can order your enamel keepsake frame well before baby arrives so that you have the kit ready to take baby's prints in the first few days.
Or you can have the kit ready for a special event like a birthday or christening.
You can choose the colour after you've ordered - just choose "confirm after checkout" in the drop down menu.
Our Siblings keepsake frame is available in 2 sizes, so older children can have their handprints enamelled too. (see size guide)
Each enamel is handcrafted individually so colours and texture may vary slightly.
Click to find out more about:


 How to Order


 Inkless Print Kits


 What is enamel