Personalised Christmas decorations make such precious keepsakes and gifts.
Each of the decorations on our Christmas tree tells a different story. Some were bought as mementos from our family travels, some were given as Christmas gifts from family and friends and some were made by the children. Putting up the tree is a wonderful time for reflection and looking back on the story each ornament tells and the memories that it holds.
Perhaps the most treasured Christmas ornaments on our tree are the personalised Christmas decorations we had made for each of our baby's 1st Christmas. They put the biggest smile on my face as I remember back to their first year and all the memories that come with it.
I know that this family tradition will go on for decades and the stories will all live on long after I have grandchildren.
Making Christmas Memories
Christmas is the perfect time for making family memories. If it's baby's first Christmas then that makes it extra special and a really great time to create a precious keepsake.
I've gathered together a collection of photos of the personalised Christmas baubles and decorations I've made for families this Christmas.
Some were Christmas gifts for grandparents but most were for the parents to enjoy on their own Christmas tree year after year.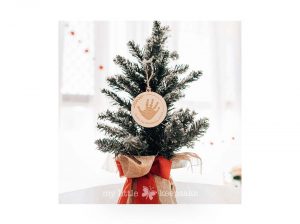 Baby's First Christmas
Coming from the UK I've always loved having a 'real' Christmas tree. A tiny tree in a pot like this one, is perfect for an Aussie Christmas.
And how beautiful does this personalised wooden Christmas ornament look on there for Seth's 1st Christmas.
His handprint is engraved in every perfect detail as a Christmas keepsake for his parents to treasure forever.

How to order
It's so easy to have one of my Personalised Christmas Tree baubles made. If you have a hand or footprints already, simply email me a photo or scan of them.
If you don't have the prints yet, you can add one of my Inkless Print Kits to you order.
To order a personalised Christmas Decoration, just click here.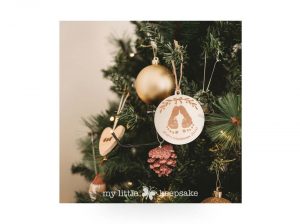 Baby's Christmas Mistletoes
There's nothing much cuter than a new baby's tiny little footprints … except maybe these tiny Baby Christmas Mistletoes.
This wooden Christmas tree ornament will stand the test of time and be enjoyed year after year.
It looks so gorgeous and natural on the tree and suits any Christmas colour theme or aesthetic.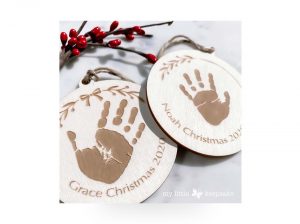 Personalised Christmas Decorations for Siblings
I've made personalised Christmas decorations for all ages this festive season. It doesn't matter if it's your little one's 1st or 21st Christmas! They're all special.
These two handprint ornaments were made for siblings and they've been reduced in size proportionally so that you can still see the size difference.
This is so precious considering the fact that in a few short years, their hand prints will be the same size.
Cherish it while you can!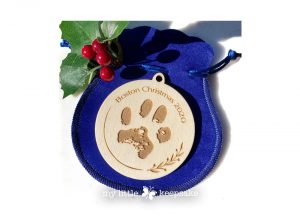 Fur Baby or Pet Personalised Christmas Decoration
I've been reminded this Christmas that our children aren't our only babies! Our pets are just as important and their paw prints look equally cute on a personalised Christmas tree ornament. You can see all of the detail in Boston's paw print here engraved into the wooden Christmas tree bauble.
The prints are taken the same way and the baby handprint and footprints, using one of my Inkless Print Kits.
Or, if you have your own paw prints already, you can simply send me a photo or scan of those.
I can clean up any smudgy bits for you.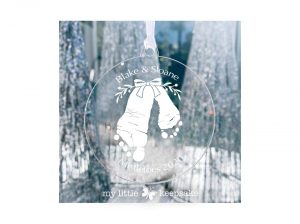 Acrylic Footprint decorations – Siblings
Another popular option for Christmas Keepsakes for siblings are these Sibling footprint mistletoes.
The prints are reduced in size proportionally so that you can see the size difference. It won't be long before they're the same size, so treasure the moment while you can.
The acrylic tree baubles look beautiful with Christmas lights twinkling behind them.
The decorations will last the test of time. They all come in a plush velvet pouch and will be pulled out year after year to remember precious family memories.
How to order
These are just a few of the personalised hand and footprint (and paw print!) Christmas ornaments I've made this year. I hope you've enjoyed looking at them with me.
If you'd like to order online, it's easy to do and you can do it at any time of year.
You can change the wording to anything you like (as long as if fits!)
Here's the link to the range:
Wooden Christmas Tree Ornaments
Acrylic Christmas Tree Ornaments